Troubleshooting Locator Inserts

Ever wonder why a brand new Locator insert doesn't improve the retention of a patient's denture?
Ever seen a Locator abutment that has lost its gold color?
What about a perforated nylon insert?
We have been working with Chris Bormes, and the team at Preat for over 10 years and they are our go-to supplier for various prosthetic parts and pieces that we use almost daily.
Preat, an acronym for Precision Attachments, has been in business since 1980 and they have the expertise to help you plan a case, consider various attachment systems for your RPDs or implant cases, and then provide the parts to help you execute the plan.
As we all know, we are not one-person teams and we rely heavily on our partners and Preat is one of those partners.  From Locator inserts to Hader bar parts to UCLA abutments, Preat has the majority of parts we need to do dentistry.  In addition to parts, the wisdom and expertise in a company that has seen implant dentistry evolve over nearly 40 years is invaluable.
Troubleshooting LOCATOR® Attachments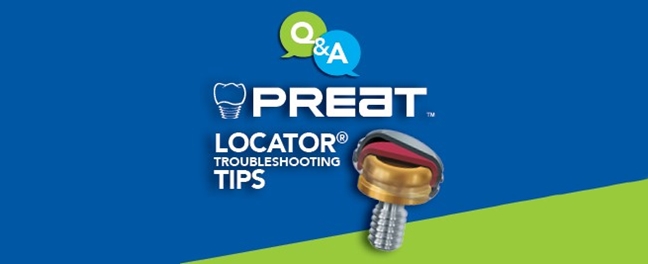 Common calls received by the Technical Team at Preat. Your One Stop Shop for all your LOCATOR®
Q: The Retention Inserts are pulling out of the housing?
A: The path of insertion is likely too divergent for standard inserts. Consider the extended range males (red, orange, green) which will accommodate a divergent implant between 10 and 20 degrees (40 degrees between implants).
Standard LOCATOR® Replacement Males Extended Range LOCATOR® Replacement Males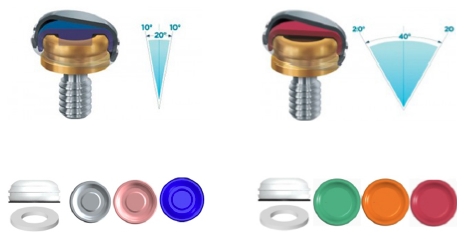 Q: There is no retention with this new prosthesis. Why?
A1: Make sure you can see the retention zone, allowing the housing and insert to engage with the abutment. LOCATOR® implant abutments should be ordered to the exact height of the gingival measurement. The LOCATOR® Implant abutment has a built in additional 1.5mm of height. This 1.5mm allows the male attachment to fully seat on to the the abutment. Please do not add 1.5mm to your measurements.

A2: Try a housing or impression coping on the abutment. With finger pressure, is there retention? Is the housing making contact with the gingiva?
A3: If yes, there is retention with an impression coping/housing test, it is a high spot. Use indicating paste to check for acrylic high spots or alignment of the attachment.
A4: A plastic male will not provide retention. You must use a metal housing.
A5: Finally, try the extended range male inserts before re-picking up the housing.
Q: There is no retention with this old/existing prosthesis. Why?
A1: Is the inside of the LOCATOR® abutment clean of debris? Plaque build up prevents the inserts from properly engaging with the abutment.
A2: Do you see any wear facets/gold TiN coming off of the abutment and the silver undercoating showing up? This is likely from worn/rough inserts making vertical striations into the abutment when the patient is biting it into place. To check retention, again an impression coping to see if there is wear on the abutment. If no retention, you need a new abutment.
Common causes for the vertical striations include: poor hyenine, denture cleaner, bruxism, and more.
A4: Finally, if there is retention, check for a reline.
Take a 0.5mm of thin/base plate wax and wrap it around the saddle area of the process
Replace the inserts with the black processing inserts
Seat the prosthesis back in the patient's mouth and have them come into occlusion.
Remove the prosthesis and check for contact marks.
If there is no contact, that means there has been a loss of more than 0.5mm of supportive bone/tissue. Reline to compensate for what has been lost.
Contact Preat for all of your LOCATOR® needs!
Abutments, Inserts, Impression Copings, Drivers, and more.
1-800-232-7732 or visit preat.com