All-on-4 Implants in Portland, OR
Replace multiple missing or damaged teeth
Are you living with missing teeth or a smile that causes unwanted embarrassment and trouble eating? 
As your Portland dental implants expert, our team is proud to offer you a healthier, better looking smile through All-on-4 dental implants.
Contact us to schedule a consultation.

What is the All-on-4 implant system?
With All-on-4 implants, Drs. Halmos, Manning, and Redmond, working with other dental specialists, can fully rejuvenate your smile using just four precisely placed dental implants in the upper or lower jaw.
These implants become part of the jawbone and function as an incredibly strong and durable foundation for your new teeth.
By combining this remarkable technology with the skill of our Portland dental implant experts, we can help you achieve a durable, stable, and non-removable solution for missing teeth.
Are all-on-4 implants the same as dentures?
Think of All-on-4 implants as a modern denture hybrid. 
Traditional dentures are removable, high-maintenance, and limit the foods you can eat. They also don't support the health of your jaw bone and can lead to a sunken facial appearance. 
Conversely, All-on-4 implants use 4 implants as attachment points to support a custom-made bridge. This method ensures your prosthesis doesn't fall out or come off unexpectedly. It also keeps the prosthesis from shifting on your gums and improves chewing effectiveness. 
The All-on-4 implant system is far more comfortable, secure, and natural-looking when compared to traditional full dentures.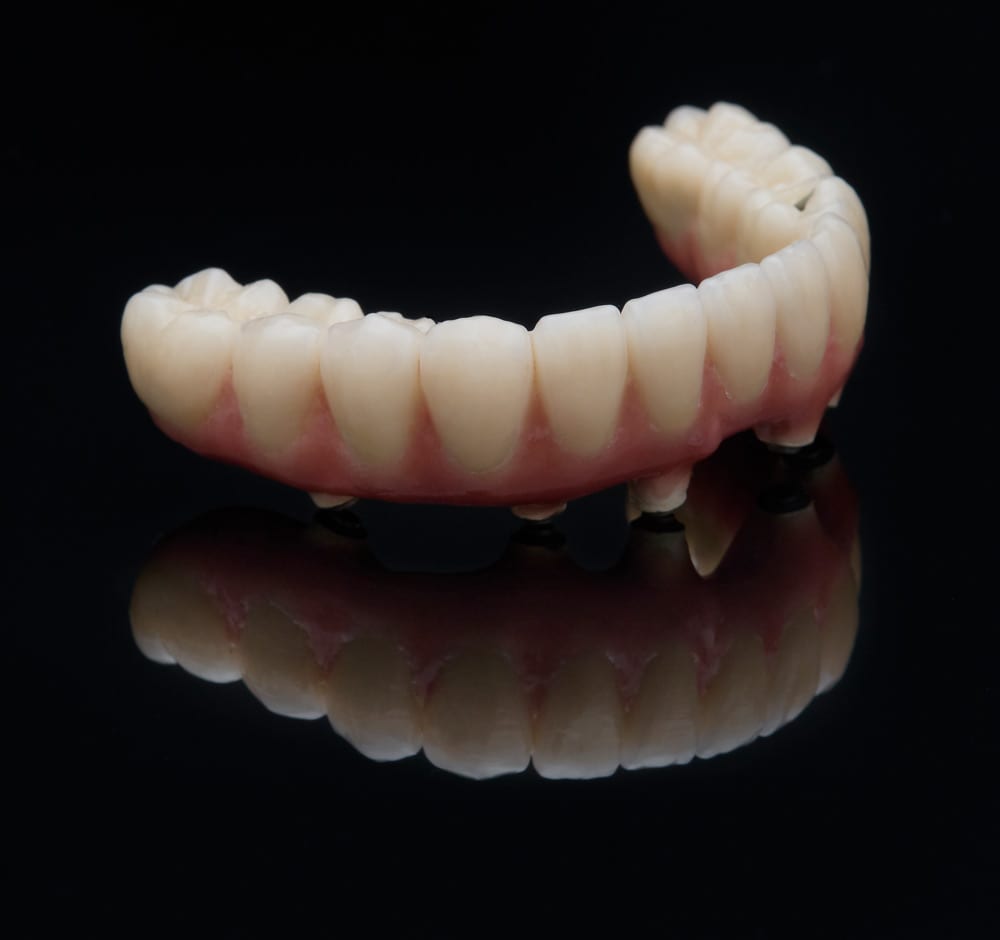 "Calm and relaxed atmosphere, personable staff, this office has everything dialed in to provide a comfortable and professional experience. Dr. Manning's ability to put you completely at ease is coupled with an expert skill set. The procedure was painless and much shorter than I expected. I will definitely refer my friends to this office."
-Lance T.
State-of-the-art interdisciplinary care
Advanced Dentistry is the recognized expert on restoring the health and beauty of your smile. Our doctors work alongside top-rated professionals to provide high-quality All-on-4 implants in Portland.
As part of your treatment process, we'll work with you to understand your health and lifestyle and design the right tooth replacement option to fit your needs.
Our All-on-4 system is made with high-quality, biocompatible, and durable materials. Taking a personalized approach, we'll ensure your finished restoration compliments your facial structure and give your smile a natural, effortless appearance.
"I can't praise this office enough. The space is beautiful and welcoming and the front desk staff were warm and friendly. I came in for a chip on my front tooth and Dr. Manning was able to squeeze me in last minute to assure I was wedding ready. Her fine attention to detail left me feeling comfortable and at ease, knowing I was in great hands. The fix was perfection - it even fooled my dentist - and I would definitely recommend Dr. Manning to anyone in search of a wonderful, skilled and friendly Prosth. Thank you for making sure my smile looked perfect!"

-Cynthia H.
New patient information
We do things a little differently here. At Advanced Dentistry, your All-on-4 treatment is custom-tailored to your needs based on your thorough new patient exam.
Contact us to schedule your first appointment which will include:
90 minutes of one-on-one time with your doctor

Review of your dental and medical history and any additional diagnostic records, including x-rays

Complete dental examination, including a head and neck exam, oral cancer screening, and a full tooth and gum analysis

Discussion of our initial findings
After your first appointment, we'll invite you back to our office for a complimentary follow-up consultation where we'll carefully outline our treatment plan for you — whether that's the All-on-4 system or another solution. We'll find the best option for you.
Frequently asked questions
What's the difference between the All-on-4 system and traditional implants?
With the All-on-4 system, you don't need to replace each tooth with an implant. Instead, as few as 4 implants serve as the anchors to hold a permanent, custom-made denture.
What are all-on-4 implants made from?
There are two types of tooth materials that can be used when fabricating All-on-4 appliances:
Zirconia

Titanium wrapped in acrylic
Which is better, zirconia or titanium/acrylic?
There's no one material that's best for all patients. Our dentists will work to completely understand your oral health before making a recommendation. We'll consider details including:
How Your Teeth Come Together

– What are the teeth opposing the dental implant like? It's important to choose products that complement each other, not just in looks but also in function.

Teeth Grinding

– For those who grind their teeth, some materials, such as acrylic, are simply not going to work well. They become damaged too quickly, limiting their effectiveness.

Finances

–Zirconia is a more expensive product while acrylic is more affordable.

Your Age

– Zirconia lasts longer, which means that if you are younger, the prosthesis does not need to be replaced as often.

Your Oral Health

– Your dentist also needs to consider whether or not the implants are being placed into regenerated bone as well as the space between your implants.

Reason for Tooth Loss 

– If you have oral health concerns, such as cavities and gum disease that brought you to this point, they must be taken into consideration.
Our Office
11790 SW Barnes Rd, #260
Portland, OR 97225
Monday-Friday: 8am-5pm
Call (503) 352-3224